What Type of Paper is Used for Magazine Printing?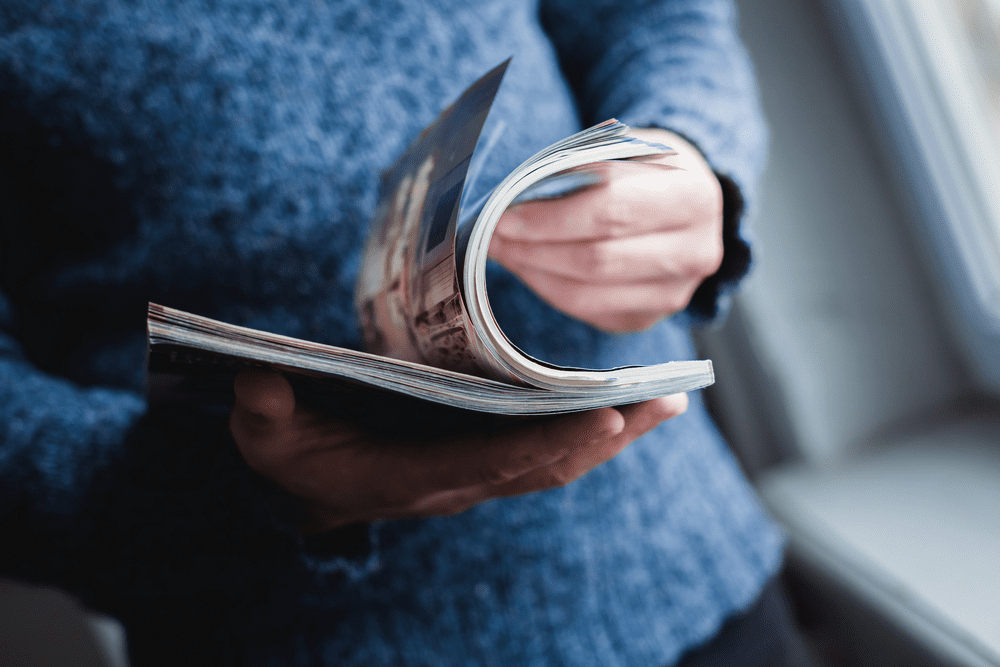 Printing a magazine is a very effective and affordable way to grab the attention of customers and clients. When a magazine arrives in your mailbox, curiosity compels you to open it up and page through the images and articles. Every magazine you print has the potential to reach multiple people as the magazine is passed from person to person. When you make the right paper choices, magazine printing is one of the best marketing techniques for creating brand recognition.
What Paper is Used for Magazines?
Lightweight, 80 to 90 GSM paper coated with a fine particulate substance called kaolin, is what comprises the inner pages of most Canadians' favourite magazines. The paper is thin yet strong, very glossy, highly printable, brighter (whiter) and more opaque than regular paper.
The type of paper you choose for your magazine printing project depends on a number of factors, including your objectives and your budget. Magazines are often used to promote events and can include articles and advertising. Catalogues are very useful for retail businesses, with high-quality images that highlight the features of products available for sale. The weight and finish of the paper you choose for your magazine printing will depend on the marketing ends you wish to achieve with the publication.
The four principal factors that will determine the cost of your magazine printing are quantity, size, paper weight, and finish. It is also important to consider the cost of distribution and how changes in size and paper weight can affect your distribution budget.
It is always prudent to determine the most economical way to achieve your marketing objectives. However, you should never make a savings choice that undermines the effectiveness of your campaign. A predetermined budget helps you make the correct decisions for your magazine printing.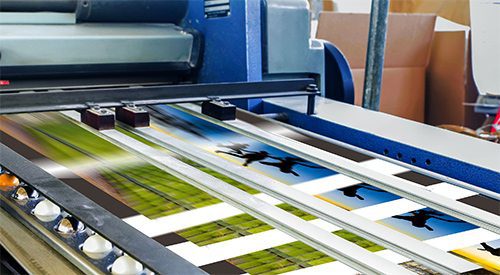 What Weight of Paper is Used for Magazines?
Paper weight is measured in terms of GSM, or grams per square meter. For a convenient reference point, the paper in your office printer is probably around 80 GSM. Thicker paper is more durable and less likely to tear, but it is more difficult to fold and is heavier, which makes it more expensive to ship. Some catalogues use 80 to 90 GSM paper for the interior pages and heavier paper for the cover.
More common paper weights for magazines is 115-170gsm for the inner pages, and 115gsm-200gsm for the outer. Compared to catalogues and brochures, it's more common for a magazine to have the same paper thickness throughout.
If you are printing a prospectus for an investment, you might be able to save printing and shipping costs by using newsprint in the interior. Newsprint is usually between 35 and 55 GSM and is very lightweight. You can create a very attractive publication with a thick, glossy cover with a newsprint interior. Newsprint is an effective choice if your magazine printing needs include more text than images.
Remember that it is always possible to mix paper types within your publication, depending on your needs. An example would be several pages of glossy photos in the middle of your document.
What Makes Magazine Paper Glossy?
Coated paper has a glossy, shiny surface but can also be purchased matte or textured. A number of different substances have been used over the years but the one of the most well-known is kaolinite (Al 2Si 2O 5(OH) 4), a layered silicate clay mineral which forms from the chemical weathering of feldspar or other aluminum silicate minerals. It works because these porcelain particles are so small they 'fill' the paper.
Coated paper adds a protective enamel coating that results in either a glossy or matte finish. This fine particulate is a filler that prevents the paper from fully absorbing the ink, which results in a more precise image replication. Coated paper is also more resistant to moisture and tearing. If you are printing a magazine with many images, your presentation will be enhanced by the papers' glossy finish. High gloss provides a dynamic, shiny look that helps enhance the hues and colors of your images.
If your magazine is a combination of text and images, you might consider a matte finish. A matte finish offers more precise image replication than uncoated paper, but it lacks the shine that makes text more difficult to read. A matte finish is a very popular and versatile look that is suitable for a wide variety of magazine printing objectives.
Why do some Magazines have Uncoated Paper?
Uncoated paper is a perfect choice for pages that contain a lot of text. Untreated paper doesn't have a shiny surface, which makes it easier to read. Uncoated paper is also more ecologically friendly because it can be recycled after use. Paper without any coating allows the fibers to more readily absorb ink, and this kind of paper is easier for writing notes after printing.
As publishers, the type of paper you employ is critical for conceptualizing your final magazine printing. Uncoated paper creates a subdued and artistic look that is very effective for many advertising objectives. Before you commit to a paper choice for your entire print run, it's worth printing a sample version of your graphics on several paper choices to help you determine the most effective look.
What is the Best Paper Size for Magazine Printing?
Magazines come in all shapes and sizes and can be as small as a paperback book or as large as a newspaper. Other custom sizes are also available, but the standard sizes are more likely to be the most economical. The number of pages in your magazine will determine the best method for binding the magazine together. The best way to think about paper size is to take a standard sheet of office print paper and either double it or fold it in half. Printers have adopted standard printing sizes to make the most efficient use of paper rolls.
Very large magazines have the advantage of greater visibility, but they are more expensive. If you wish to include a poster at the center of your magazine that may be detached for purposes of display, you might consider a large paper size. Large magazines are a good choice if you plan on distributing your magazine for free at local coffee shops or book stores. Smaller magazines are useful for mailing or for handing out directly to people.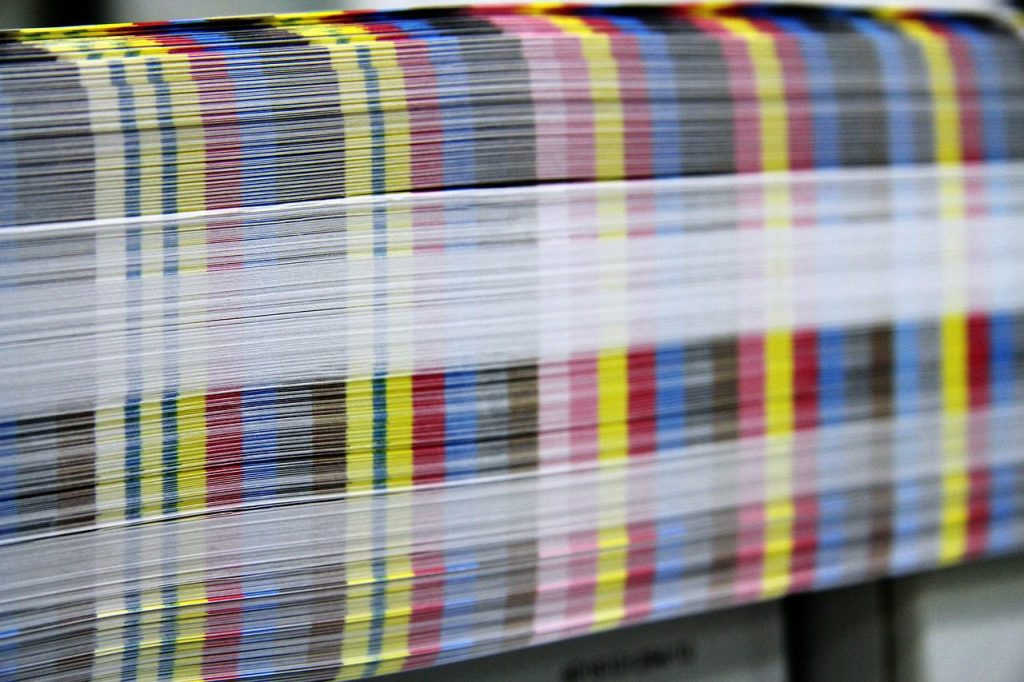 How to Prepare Graphics for your Paper?
As you continue to refine the details for your magazine printing, it's important to communicate with your printing company for design specifications. Printing requires a clearance area on the graphics that ensures no critical information will be lost during trimming. Also, if your magazine is many pages long, some printers require that you send the graphics necessary for sheet printing rather than individual page printing.
For example, if you have an eight-page magazine, your first graphic will feature the front and back cover, which will be printed on one sheet and then folded on the seam in the middle.
As you finalize your printing needs, it's important to choose a printer with strong customer service. Your printer will provide you with a final level of quality control and can guide you with choices that might be more effective and cost-efficient. Your expectations for how your text and graphics will appear on your final product represent a critical element for choosing the proper paper for your magazine printing.
The Perfect Paper for the Perfect Product
Every piece of printed material that features your brand name or logo is a reflection of your business. Printed materials offer you the opportunity to stand out in a world where people are constantly inundated with digital advertising. A well-conceived magazine allows for greater artistic control and tremendous versatility. Whether you are conveying important information to customers or clients in the form of articles or advertising products with dynamic images, the right paper choice can enhance the effectiveness of your magazine.
Contact Dollco to learn more about Magazine Printing today. Our professional team can provide the direction and expertise necessary to make your next marketing campaign a success.